Search Engine Optimization ("SEO") for Lawyers
Legal Web Design Takes Attorney Website Search Engine Marketing to the Next Level
Search engine optimization for lawyers – attorney SEO for short – is becoming an  important part of running a successful legal practice. That's because today's clients are no longer looking at Yellow Pages or print advertisements to find an attorney. Instead, they are turning to search engines like Google, Yahoo and Bing.
If you want clients to find your practice rather than a competitor's, you are going to need the right law firm SEO company on your side. It is getting harder than ever for a law firm to reach one of the premier search engine positions, and doing so takes more than just a few minor changes to your legal website. Therefore, Legal Web Design helps you avoid mistakes and make the most of lawyer SEO marketing opportunities.
---
The Legal Web Design team expertly helps attorneys improve their search engine rankings.
For example, here are just a few of the things you get with our legal search engine optimization service:
Search optimized pages, titles, and tags on your legal website
A program that improves your law firm's rankings on all the major search engines – not just Google
Integrated profiles and updates from social media sites like Facebook, Twitter, and LinkedIn, all of which contribute to your legal SEO profile
A plan for ongoing content that helps you to become more visible to Google and other search engines
Detailed research, metrics, and analytics, so you can see exactly how well your legal SEO plan is working
Search Engine Optimization for Lawyers Process at a Glance
A successful SEO plan is conducted by effectively implementing both on-site and off-site optimization techniques using our tried and true SEO process.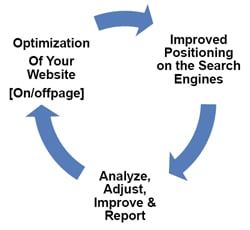 Education about the SEO process
Learning about your firm
Search traffic analysis for relevant keywords
Website audit and recommendations for implementing a successful SEO plan
Deep-linking to relevant content on your website
Setup and implementation of webmaster tools including the production of sitemaps directing search engines to relevant content on your website
Analysis of competitors
Negotiation with potential link partners
Monitoring, assessment, and reporting of link-backs
Total integration of on-site attorney SEO marketing recommendations and continuation of off-site strategies
In conclusion, implementing a search engine optimization for lawyers strategy is an effective, high ROI way to bring new clients into your practice. Contact us today to set up a FREE consultation to see what the Legal Web Design team can do for you.