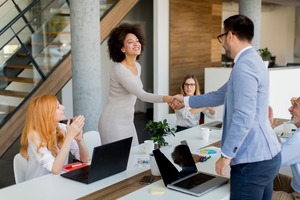 In today's world, a professional website is a must-have for all businesses. For lawyers, a website is an essential tool that helps them establish credibility and build trust with potential clients.
One of the most important things a website does for an attorney is help them establish credibility. How?
Here's what you need to know.
Showcase Your Experience and Expertise
One of the primary functions of your website is to highlight your expertise in your practice area and demonstrate your experience and achievements as a lawyer. You can do this by creating an "About" page that includes your bio and experience, highlighting your published works and speaking engagements, and listing any awards or recognitions you've received. By doing so, you'll establish yourself as an authority in your field, which will help build your credibility and reputation.
Offer Valuable Information
Your website can also serve as a resource for your clients and potential clients by providing them with valuable information regarding your practice area. You can do this by creating:
Blogs
Articles
FAQs
Case studies
By providing valuable information and resources, you'll position yourself as a helpful and trustworthy professional.
Provide Testimonials and Reviews
Social proof is a powerful tool for establishing trust and credibility with your potential clients. Add testimonials and reviews from your satisfied clients to your website, sharing their positive experiences and feedback. This will help build trust with your audience and establish your reputation as a successful lawyer.
Create a Professional Design
A professional website design goes a long way in establishing trust with your audience. Your site's design should be clean, modern, and easy to navigate. Use high-quality images and professional graphics, choose a clear and legible font, and make sure your website is mobile-friendly.
A well-designed website will help you project an image of professionalism and trustworthiness to potential clients.
Maintain Clear and Concise Contact Information
Finally, ensure that your website includes clear and concise contact information. Make it easy to find and easily accessible. Provide multiple ways for clients to contact you, including email, phone, and social media pages. Quick response times and easy accessibility will show your clients they can count on you and that you're committed to providing excellent services.
Your website is one of your most important assets. It helps you earn the trust of your target audience as a lawyer. By showcasing your expertise, providing valuable information and resources, offering reviews, creating a professional design, and maintaining clear contact information, you can create a professional and trustworthy image that will help you establish credibility and build your reputation in the legal industry.
For help with implementing any of these tips or to speak to someone about improving your firm's online presence, contact Legal Web Design to schedule a free consultation.