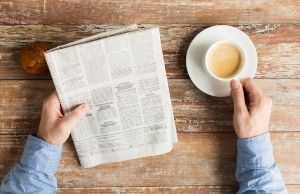 A popular adage holds that there are three types of people in this world: those who make things happen, those who watch things happen, and those who wonder what happened. From an attorney marketing standpoint, however, it's possible to add another type: those who capitalize on what happens.
What is Newsjacking?
David Meerman Scott popularized newsjacking in his book of the same name. According to Scott, newsjacking is "the process by which you inject your ideas or angles into breaking news, in real-time, in order to generate media coverage for yourself or your business."
Newsjacking for lawyers was a hot topic at this year's PILMMA Summit in Forth Worth, Texas. This is a useful technique for generating increased web traffic in any industry. Attorney Mitch Jackson gave the closing presentation at PILMMA 2015 and outlined how lawyers can harness newsjacking. He explained that lawyers can use newsjacking to give their unique legal take on a breaking news story. Attorneys can also leverage this coverage into authority, influence and new clients.
Jackson defines newsjacking as "capitalizing on the popularity of a news story to amplify your sales and marketing success." He gives the example of a news story about a $60 million marijuana bust in Texas. For criminal defense attorneys, the story is an opportunity to comment about search and seizure and due process laws. For civil rights attorneys, the story could provide a framework to discuss the moral and healthcare implications of marijuana legalization.
In his presentation, Jackson also discusses how his firm used the Oscar Pistorius murder trial to his advantage. The firm provided daily legal analysis on their blog that was widely commented on and shared. Jackson says the analysis positioned his firm as an authority on legal issues raised by the case. In addition, he was contacted by reporters who sought clarification and perspective on some of these issues.
Other stories "newsjacked" by Jackson's firm include Donald Sterling (and the legality of recorded conversations), Philip Seymour Hoffman's death (and who is responsible), and the liability of Target to consumers for data theft.
How to Newsjack
Newsjacking is a fairly straightforward concept, but there is a process that needs to be followed. To give your firm an advantage, practice these attorney marketing steps when newsjacking to leverage the power of breaking events:
Set up Alerts: To stay ahead of the news cycle, you've got to be clued in to stories that relate to your practice. You can do this through Google Alerts, which sends stories to your inbox based on keywords (i.e. "mesothelioma" or "GM Recall"). You can also set up a personalized RSS Feed and monitor social media for topics of interest.
Check Keywords: Organic traffic can be given a boost through the targeting of high volume keywords. Having the right keywords (i.e. those with higher search volume) in your blog/article title allows you to capitalize on Google's algorithm and drive additional traffic to your site.
Create Unique Content: Regurgitating a major news story that relates to an attorney's practice area—the typical strategy of legal blogging—isn't going to attract much attention. To successfully newsjack, attorneys need to provide value-added content that has their unique ideas and commentary. Such content is useful not only to clients and prospects, but also to journalists and other media partners who can provide additional coverage.
Spread the Word: The finished, newsjacked product is now ready to be pushed out into the wider web through social media sites like Twitter, Facebook, and LinkedIn. Again, you need to think beyond organic traffic. Try to develop relationships with partners (websites, journalists, professional organizations, etc.) who will pick up your story and run with it.
Outsource for Help with Attorney Marketing
Don't have enough time in your busy day to stay on top of news stories? Don't have time to provide unique quality content and push it through social media? Legal Web Design can help. Our attorney marketing team can perform one aspect of newsjacking or the entire process. We also offer SEO, website design and hosting, and more.
Learn more about how Legal Web Design helps lawyers and clients connect during a free consultation.