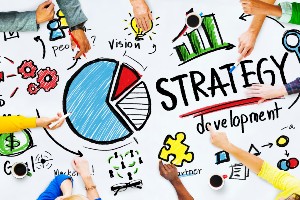 Marketing is an essential part of getting your firm noticed. But many attorneys have no idea where to begin. The best marketing strategies for law firms are organized, comprehensive, and effective. But creating a marketing plan for a law firm is a big challenge. The good news is it is one well worth undertaking and you don't need to do it all on your own.
One of the biggest challenges of marketing your firm is figuring out where to focus your attention. There are endless options for marketing offline and online, but not all of them are suitable for every lawyer. Figuring out what works for your firm can seem overwhelming, but it doesn't need to be that way.
We've compiled an overview that can help you create a marketing plan for your law firm without getting frustrated or giving up. Understanding the importance of these issues can help you determine the best specific decisions to make for your firm. We'll help you wrap your mind around marketing your firm and get started with a manageable and effective plan.
What should you know?
Managing Your Firm's Reputation is a Top Goal
Both offline and online marketing methods are about maintaining a good reputation for your firm.
There are plenty of ways to boost your firm's reputation. Online reviews are one of the most powerful tools you have for doing this today. Studies estimate that 90 percent of consumers read reviews before deciding to purchase a product or service. The more you can do to build trust before a client reaches out to you the better.
If it's been a while since you've checked out your reviews or you need help establishing a system to use reviews to help your firm, we can help.
Social Media is Part of the Best Plans
Some attorneys are reluctant to use social media to promote their firms. In part, this is because they've seen the damage social media can do.
Unfortunately, forgoing social media is costing them growth opportunities.
Hundreds of millions of people use social media every day and usage continues to increase. This makes it a great tool for connecting with potential clients. But it's important to use social media correctly and make sure it's working for you. Used properly, social media is one of your best and most cost-effective tools for getting your firm noticed in today's world.
SEO Needs to Be a Priority
Search engine optimization, better known as SEO, ensures your presence on the internet doesn't go unnoticed. A solid SEO plan guarantees potential clients will know you exist and that you are easy to find when they search for the services you offer.
But SEO takes time. It's a long game and it's one that many attorneys just don't have the time for. Not to mention all of the different tasks required to have a solid SEO game.
If you want to know more about SEO or you need help improving your search engine rankings, give us a call.
Calling in a Pro
SEO isn't the only thing attorneys might need help with when it comes to the best marketing strategies for law firms. Creating and implementing a comprehensive marketing plan is a full-time job. It's not something the vast majority of lawyers have time to do.
Still, less than 30 percent of lawyers are working with a marketing consultant or marketing agency, despite the benefits.
Many opt to do their marketing for financial reasons, while others just have a difficult time turning control over to another entity. It's important to know that you can outsource just certain aspects of your marketing efforts. For many firms, this is the balance that lets them maintain control without getting overwhelmed by all there is to accomplish.
To maximize the effects of marketing, it's smart to partner with trained professionals. This way you'll have a support system that's able to keep up with the constant changes that take place in the legal marketing world. Their focus is on legal marketing, which means you don't need to worry about anything slipping through the cracks.
Additionally, a marketing agency not only helps you design and implement a plan for marketing your firm, but it also means your efforts will be tracked. You'll know the investment you're making in law firm marketing is working.
The bottom line?
All law firms need to have a comprehensive marketing plan. Marketing is as important for attorneys as it is for all other professionals in every industry. If you've been putting off marketing efforts or you've fallen behind, now is the time to get a system in place.
To learn more about the best marketing strategies for law firms or to schedule a consultation to find out what we can do for your firm, give us a call.